Featured Vacation Rental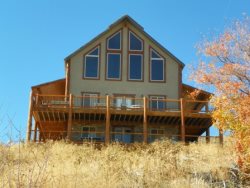 Reunion House
Events
Monthly:

Quilt Show

at the The Oregon/California Trail Center in Montpelier. 866-847-3800
Monthly: Zumba! Every Tuesday & Thursday 8am-9am and Saturdays 7:30am-8:30am. $3 per class or punch passes are available. Located at the Garden City Offices, 69 N. Paradise Parkway. Call 435-764-0863 for more info.
16th - 18th: Quilt trunk show Thurday 7PM. Quilting class Friday and Saturday taught by Pam Buda of Heart Spun Quilts. Reservations required for quilt class. Event located at the National Oregon/California Trail Center in Montpelier, ID. 208-847-3800

17th: 7th Annual "Can you Believe it?! community talent show held at the Allinger Communitee Theatre in Montpelier, Idaho. 208-847-3800
TBA: Fall Family Night, movie at the Laketown Park starting at 6:30PM. Dinner and games $8. *inclement weather at the NRE gymnasium.
TBA:

Halloween Party

at the KOA campground in Garden City, UT. Starts at 4:30PM. Trick-or-Treating, treats, and games.
TBA: Halloween Bash at Kerasma Restaurant. Costume contest and Spooky Buffett. 801-651-4170
TBA:

Rich Legends and Melodies:

stories, poetry, & music! Located in Garden City, UT at Lake View Room, Bldg C, 69 N. Paradise Parkway. Performance starts at 6:30 PM. Free Admission! For more info contact 435-730-6559.
TBA: Traditional Thanksgiving Day Dinner at Kerasma Restaurant. Served from noon-6pm. Adults $25 Kids 10 and under $10. Save yourself the hassle and shopping by coming and enjoying a great Feast! Reservations only. 801-651-4170
28th: Performance by Michael ballam, "Prelude to Christmas" at the Allinger Communitee Theatre in Montpelier, Idaho. 208-847-3800
28th-29th:

Holiday Craft Fair & Tree Festival

at the Oregon Trail Center in Montpelier on Friday from noon to 6 p.m. and Saturday from 9 a.m. to 2 p.m. Santa will visit Saturday at noon. 208-847-3800.
29th:

Paris Craft Fair

, Paris Elementary School, 10am - 3 pm, for more info call 208-847-0722.

Thanksgiving in Bear Lake

, bring your family for a great time of year, call 1-800-448-BEAR for activities and services.
Thursday Nights: Montpelier Women's Volleyball League sponsored by Montpelier Parks & Recreation.
Friday Nights: Montpelier Co-Ed Volleyball League sponsored by Montpelier Parks & Recreation.
TBA: Parade of Rentals will be held to showcase the beautiful rental properties around Bear Lake. Parade is from 10AM - 4PM, Call 435-946-3300 to RSVP. Event is FREE
TBA: 8th Annual Bear Lake Winter Festival Craft & Chocolate Fair, over 40 vendors with food, unique gifts, and craft items! Sponsored by the Bear Lake Rendezvous Chamber of Commerce.
TBA: Annual Snowmobile Hillclimb, RMSHA sanctioned, near Geneva, ID, for more info call (208) 847-0067.
TBA: Parade of Rentals will be held to showcase the beautiful rental properties around Bear Lake. Parade is from 10AM - 4PM, Call 435-946-3300 to RSVP. Event is FREE Event is FREE
TBA:

Annual Hospital Auxiliary Snowball Dance "Spring Time in The Rockies"

, Bear Lake Middle School in Montpelier Idaho from 7:30 pm to midnight, door prizes, and raffle. More info at Bear Lake Memorial Hospital (208) 847-1630.
TBA: Snow Festival

at Wells C. Stock park in Montpelier. Melodrama, Ice bowling, Chili cook off, Snowman building, and Snow Sculpture contests. 208-847-0511